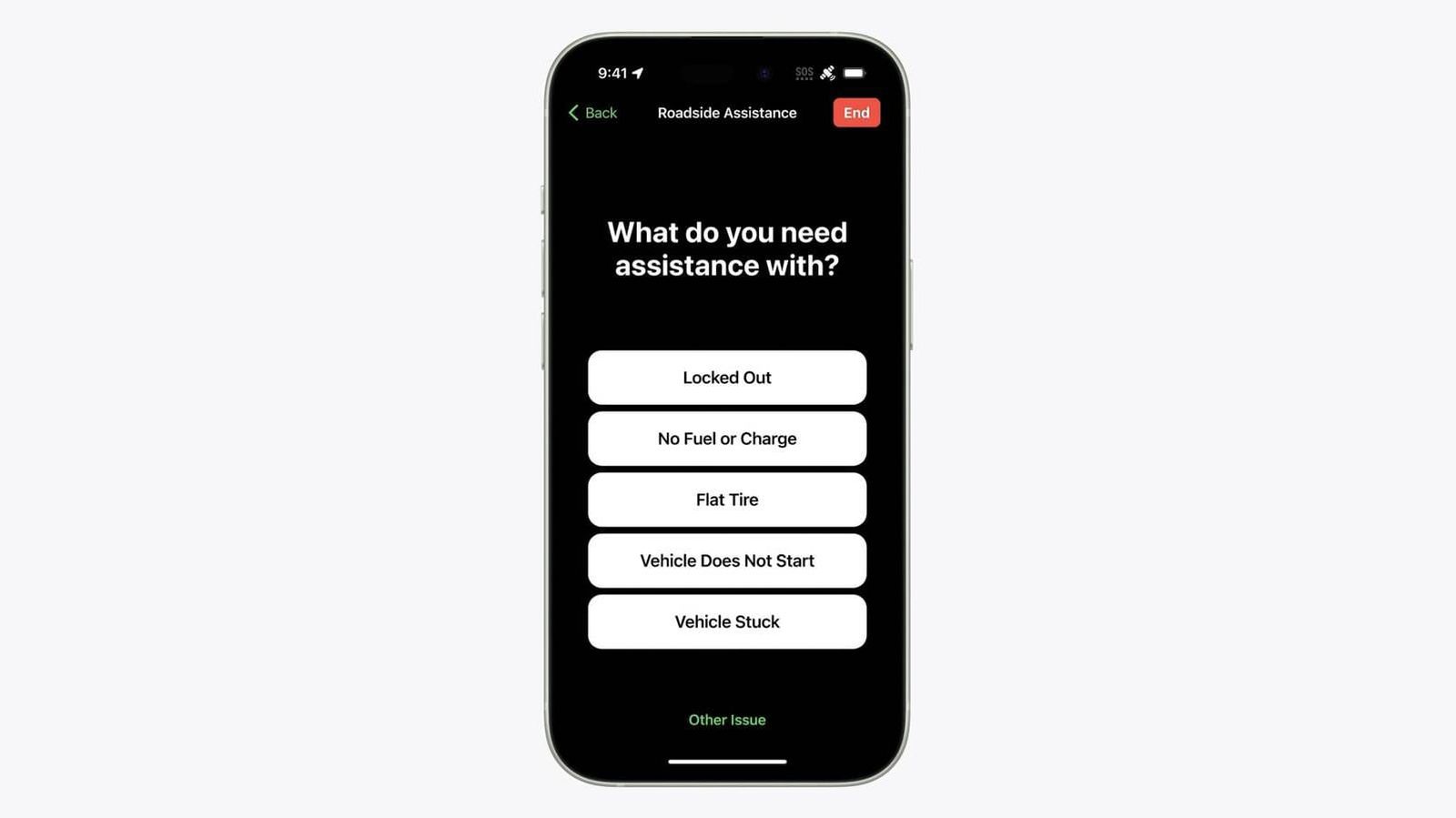 Starting with iOS 17, all iPhone 14 and iPhone 15 models offer a roadside assistance via satellite feature that allows users in the U.S. to contact roadside assistance company AAA for vehicle service when outside of cellular and Wi-Fi coverage. In a video shared today, tech reviewer Brian Tong provided a look at the feature in action.
To use the feature, open the Messages app and start a new message. Next, type "roadside" into the address field. When there is no cellular and Wi-Fi coverage available, a "Roadside Assistance" option will appear. Tap on "Roadside Assistance" and follow the on-screen instructions to connect your iPhone to a Globalstar satellite and request help from AAA. You'll need to be outside with a clear view of the sky and horizon, according to Apple.
Tong demoed the feature by having AAA come to jump-start his car's battery. The feature can also be used if you are locked out of your vehicle, have a flat tire, run out of fuel, and for other services offered by AAA.
Apple said roadside assistance via satellite is available "beginning" in the U.S., suggesting that it will expand the feature to additional countries over time, but it has not provided any specific details. In Canada, there is a AAA-like organization called CAA, so it would make sense for the service to expand to that country eventually.
Roadside assistance via satellite is an extension of the Emergency SOS via satellite feature. Apple recently extended free usage of the satellite features for an additional year.
iOS 17.2 has been in beta testing for over a month, and it should be released to all users in a few more weeks. The software update includes many new features and changes for iPhones, including the dozen that we have highlighted below. iOS 17.2 is expected to be released to the public in mid-December. To learn about even more features coming in the update, check out our full list. Journal ...
Apple today released iOS 17.1.2 and iPadOS 17.1.2, small updates to the iOS 17 and iPadOS 17 operating systems that Apple introduced in September. iOS 17.1.2 and iPadOS 17.1.2 come a few weeks after the release of iOS 17.1.1, another bug fix update. iOS 17.1.2 and iPadOS 17.1.2 can be downloaded on eligible iPhones and iPads over-the-air by going to Settings > General > Software Update....
Apple made the first beta of iOS 17.2 available to developers in October. Since then we've seen three more betas, and with each iteration Apple continues to add more new features and changes, many of which users have been anticipating for quite a while. Below, we've listed 28 new things that are coming to your iPhone when the finalized version is publicly released this December. 1. Help...
Apple is ending its credit card partnership with Goldman Sachs, according to The Wall Street Journal. Apple plans to stop working with Goldman Sachs in the next 12 to 15 months, and it is not yet clear if Apple has established a new partnership for the Apple Card. Apple and Goldman Sachs will dissolve their entire consumer partnership, including the Apple Card and the Apple Savings account....
Apple is wrapping up development on iOS 17.2, with the update expected to come out in December. While we're getting to the end of the beta testing period, Apple is still tweaking features and adding new functionality. We've rounded up everything new in the fourth beta of iOS 17.2. Default Notification Sound Under Sounds & Haptics, there's a new "Default Alerts" section that allows you to ...
The release of the iPhone 15 Pro and Pro Max saw the introduction of an entirely new user-configurable button known as the Action button, and now, MacRumors has seen extensive evidence confirming Apple is planning to include the Action button on the entire iPhone 16 range. Designs and plans for the Action button date back to at least 2021, as the button was intended for release alongside hapt...
Anker's Black Friday/Cyber Week event is entering its final days this weekend, and it's still offering up to 60 percent off sitewide. There are also a few "mystery boxes" that can include hundreds of dollars in savings, if you're willing to risk not knowing what you're buying ahead of time. All of these sales will end on December 3. Note: MacRumors is an affiliate partner with Anker. When you...
Apple and Paramount have discussed bundling their TV streaming services at a discount, according to a new report by The Wall Street Journal. The companies have talked about offering a combination of Paramount+ and Apple TV+ that would cost less than subscribing to both services separately, according to people familiar with the discussions. The discussions are in their early stages, and it is ...
Earlier this month, Apple announced that it will finally support RCS in the Messages app on the iPhone starting later next year. This change will result in several improvements to the messaging experience between iPhones and Android devices. RCS will become the new default standard for messaging between iPhones and Android devices, but these conversations will still have green bubbles like...